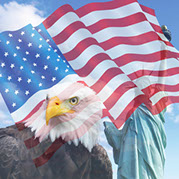 Seeking God and truth on behalf of America!
"[The Bible] is the rock on which
our Republic rests."
President Andrew Jackson (1767-1845)
Retrieved from Wallbuilders.com
August 2, 2015
Prayer Can Turn Things Around!
"First of all, then, I urge that entreaties and prayers, petitions and thanksgivings, be made on behalf of all men, for kings and all who are in authority, so that we may lead a tranquil and quiet life in all godliness and dignity."
1 Timothy 2:1-2
"If I shut up the heavens so that there is no rain, or if I command the locust to devour the land, or if I send pestilence among My people, and My people who are called by My name humble themselves and pray and seek My face and turn from their wicked ways, then I will hear from heaven, will forgive their sin and will heal their land."
2 Chronicles 7:12-14
"Then Jonah began to go through the city one day's walk; and he cried out and said, "Yet forty days and Nineveh will be overthrown." Then the people of Nineveh believed in God; and they called a fast and put on sackcloth from the greatest to the least of them... When God saw their deeds, that they turned from their wicked way, then God relented concerning the calamity which He had declared He would bring upon them. And He did not do it."
Jonah 3: 4-5, 1